Hurricane Resources
A hurricane is a giant, spiraling tropical storm that can pack wind speeds of over 160 miles an hour. And they can unleash more than 2.4 trillion gallons of rain a day. These same tropical storms are known as cyclones in the northern Indian Ocean and Bay of Bengal, and as typhoons in the western Pacific Ocean.
The Atlantic Ocean's hurricane season peaks from mid-August to late October and averages five to six hurricanes per year.
Hurricanes begin as tropical disturbances in warm ocean waters with surface temperatures of at least 80 degrees Fahrenheit. These low pressure systems are fed by energy from the warm seas. If a storm achieves wind speeds of 38 miles an hour, it becomes known as a tropical depression. A tropical depression becomes a tropical storm, and is given a name, when its sustained wind speeds top 39 miles an hour. When a storm's sustained wind speeds reach 74 miles  an hour it becomes a hurricane and earns a category rating of 1 to 5 on the Saffir-Simpson scale.
Hurricanes are enormous heat engines that generate energy on a staggering scale. They draw heat from warm, moist ocean air and release it through condensation of water vapor in thunderstorms.
Hurricanes spin around a low-pressure center known as the "eye." Sinking air makes this 20- to 30-mile-wide area notoriously calm. But the eye is surrounded by a circular "eye wall" that hosts the storm's strongest winds and rain.
These storms bring destruction ashore in many different ways. When a hurricane makes landfall it often produces a devastating storm surge that can reach 20 feet high and extend nearly 100 miles. Ninety percent of all hurricane deaths result from storm surges.
A hurricane's high winds are also destructive and may spawn tornadoes. Torrential rains cause further damage by spawning floods and landslides, which may occur many miles inland.
The best defense against a hurricane is an accurate forecast that gives people time to get out of its way. The National Hurricane Center issues hurricane watches for storms that may endanger communities, and hurricane warnings for storms that will make landfall within 24 hours.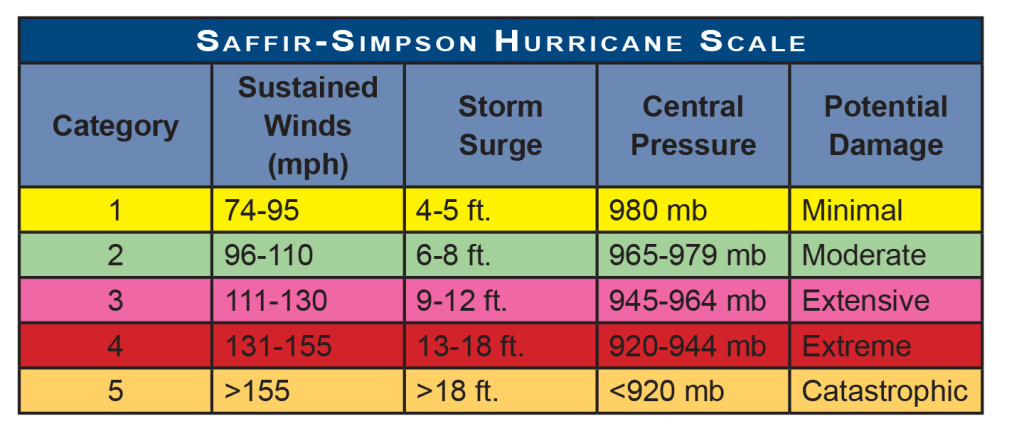 Hurricanes can cause massive property damage. The scale of potential damage drives up the price of hurricane deductibles, and in the event of a hurricane, causes a massive influx of hurricane claims. All these factors can make the claims process slow, confusing and overwhelming to policyholders.
10 Things to Know About Hurricane Insurance Claims:
Flooding Is Covered by Auto Insurance — If your car insurance includes comprehensive coverage, then flooding would be covered. In many cases, the water damage can be so bad that the insurance company will declare the car a total loss and pay the claim for the value of the car (minus the deductible).
You May Have a Much Higher Deductible for Hurricane Damage — Until a few years ago, many people in high-risk areas of Florida had to buy separate policies to cover windstorms. Now, more insurers are offering windstorm coverage in Florida as part of their homeowners policies. But you may have a higher deductible for hurricane damage.
Find Out If You Qualify for Other Assistance — Most states' emergency management agencies have information about other resources to help after a hurricane, such as emergency housing, medical and financial assistance from a variety of nonprofits and government agencies. You may also be able to get financial assistance from FEMA.gov if you don't have insurance.

Understand the Rules for Fallen Trees

— Even if a hurricane didn't destroy your home, you may have some damage from fallen trees. If your tree damages a neighbor's property—say, crushing a garage or fence—your neighbor should file a claim with his insurance company, which will generally pay to fix the damage. When a tree falls and doesn't hit anything, insurance policies will typically pay just $500 to $1,000—or sometimes nothing—for the cleanup.

Your Insurer May Pay for Living Expenses While You're Out of Your Home

—  Most homeowners policies pay for additional living expenses—including rent, food and other costs—for up to a year while you're unable to live in your home, or up to a certain percentage of your total coverage amount. This may be the first money you get from your insurance company before it determines how much to pay to rebuild your home.

Contact Your Insurer and Start Documenting Your Claim Right Away

— Insurers usually want you to make temporary repairs, such as putting up a tarp, to stop any further damage to the house, even before an adjuster assesses the property. But take pictures before you make those temporary fixes.  Also keep receipts of any supplies you had to purchase for repairs, which may be reimbursed by your insurer.

Get Credit for All of Your Possessions

— If you had a home inventory listing your possessions, and you kept it online or outside of your home, you'll have a great head start when filing your claims. Otherwise, you may be able to piece together information that can help with your claim. Any photos you have of the rooms in your home can provide evidence to the insurer about items that were damaged. Also look for any receipts for valuable items. And take pictures after the hurricane but before removing debris so that you have some documentation that the items were damaged in the storm.

Take Advantage of In-Person Support

— The state insurance department generally has consumer protection staff in disaster areas to answer questions and help you contact your insurer. Many insurance companies also have mobile claims units on the ground to assist with filing a claim and to answer any questions.

Get Help From the State Insurance Department Throughout the Process

— The state insurance department can help you with questions as you start to file your claim, and it can also step in if you're having trouble contacting your insurer or getting your claim paid. Many insurance departments also set up special mediation programs to help resolve disputes between residents and their insurance companies after a major disaster.

Flooding Isn't Covered by Homeowners Insurance

— In general, damage caused by wind, wind-driven rain and water that comes into your home through the roof, windows, doors or holes in the walls is covered by homeowners insurance. But damage from flooding or water that rises from the bottom up is not covered.
---
To get started, you need either the ALL LINES or PROPERTY & CASUALTY license. AdjusterLicenseOnline with TXALA offer these licenses through TEXAS. Why Texas? Because Texas literally wrote the book on insurance. It was so well done and so comprehensive, that over 30 other states 'adopted' the Texas license via reciprocity. This gives you a virtual nationwide reach in working claims. So even if you already have a license, you will still want a Texas license. To get started, click Register.
---
Related Information:
Hurricane Resources