Tornado Resources
A tornado is one of nature's most violent storms. Spawned from powerful thunderstorms, tornadoes can cause fatalities and devastate a neighborhood in seconds. They start as a rotating, funnel-shaped cloud that extends from a thunderstorm to the ground with whirling winds that can reach 300 miles per hour. Damage paths can be in excess of one mile wide and 50 miles long. Every state is at some risk from this hazard. Some tornadoes are clearly visible, while rain or nearby low-hanging clouds obscure others. Occasionally, tornadoes develop so rapidly that little, if any, advance warning is possible. Before a tornado hits, the wind may die down and the air may become very still. A cloud of debris can mark the location of a tornado even if a funnel is not visible. Tornadoes generally occur near the trailing edge of a thunderstorm. It is not uncommon to see clear, sunlit skies behind the storm.
Quick facts regarding tornadoes:
• They may strike quickly, with little or no warning.
• The average forward speed of a tornado is 30 mph, but may vary from stationary to 70 mph.
• Tornadoes can accompany tropical storms and hurricanes as they move onto land.
• Waterspouts are tornadoes that form over water.
• They may appear nearly transparent until dust and debris are picked up or a cloud forms in the funnel.
• The average tornado moves Southwest to Northeast, but tornadoes have been known to move in any direction.
• Tornadoes are most frequently reported east of the Rocky Mountains during spring and summer months.
• Peak tornado season in the southern states is March through May; in the northern states, it is late spring through early summer.
• Tornadoes are most likely to occur between 3 pm and 9 pm, but can occur at any time.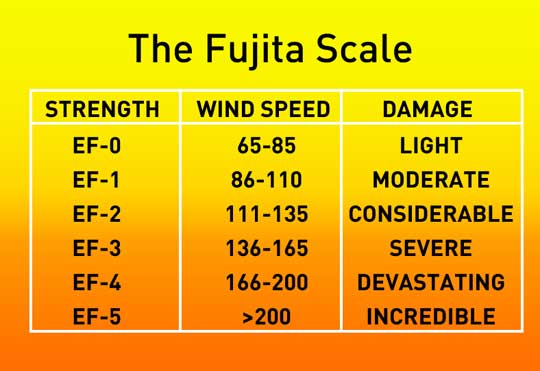 Tornadoes accounted for 40 percent of inflation-adjusted insured catastrophe losses from 1997 to 2016, according to Property Claim Services. In 2017 insured losses from U.S. tornadoes/thunderstorms totaled $18 billion, up from $14 billion in 2016. The number of tornadoes fell to 1,124 in 2018 from 1,429 in 2017, according to NOAA. The 2017 total was the highest since 2011, when there were 1,691 tornadoes, including two spring events that resulted in more than $14 billion in losses when they occurred. There were 10 direct fatalities from tornadoes in 2018, compared with 35 in 2017. May was the top month for tornadoes in 2018, with 155 twisters.
The costliest U.S. catastrophe involving tornadoes, based on insured losses, occurred in April 2011. It hit Tuscaloosa, Alabama, and other areas, and cost $7.9 billion in insured damages (in 2017 dollars). The second costliest catastrophe involving tornadoes, based on insured losses, struck Joplin, Missouri, and other locations in May 2011. The catastrophe cost $7.6 billion in insured losses in 2017 dollars.
---
To become an adjuster, you need either the ALL LINES or PROPERTY & CASUALTY license. AdjusterLicenseOnline with TXALA offer both of these licenses through the state of TEXAS. Why is that important? Texas literally wrote the book on insurance. They did such a comprehensive job that over 30 states 'adopted' it via reciprocity.  Which means, with just this one license you have a near nationwide reach! So even if you already have a license in another state, you still need a Texas license. To get started, click Register.
---
Related Information:
Tornado Resources